It has been a few weeks since I've had some time to post. Everything is going great - busy... but great. Aaron went back to work one week after we returned from Korea, so I had some time to work on our routine before I went back to work this week. Yes, we do actually have a routine (as long as Rai realizes that naps are not over-rated)!
As I finish our updates before our first post-placement visit tomorrow, I am amazed at how quickly a month passes and yet how much we have grown as a family this month. Although the doctor was correct about Rai being extra social and going to nearly anyone, he also stays close by when he's in unfamiliar territory. It was also been wonderful to see the changes in Rai's personality in the short time we have known him. For example, he was so full of energy when we first arrived but rarely would let us hold him. (Be careful what you wish for!) Now, he LOVES to be held and will get a bit fussy during certain times of the day if he isn't picked up immediately upon throwing his arms up. Some of this is due to our daily dance routines. (Yes, we're still playing that music, but he likes to dance as I hold him even more - better workout for me!) As soon as Aaron gets home, he enjoys Daddy/Son playtime as they chase eachother around the house. (The cats merely watch in amusement.)
As for the cats, Lucy is a bit upset that she's no longer the baby, so I've set aside time to play with her at night when Rai's asleep. She has always had problems being in a separate room from us, and Rai's arrival brings no exception. She generally observes from the top of the couch where she blends in a bit and hides behind the chair in Rai's playroom when we aren't in the living room. She's even started to sit at the table with us again and will even sit next to Rai but just out of reach. Kobe, on the other hand, has stayed as far from Rai as possible. The first two weeks Rai was home was like watching karma in action. (Note: Kobe was known for chasing both Gidget and Lucy around the house until they found some way to hide.) As soon as Rai realized that Kobe resembled a large stuffed animal, Rai would chase him around the house until we could get the gate open and let him escape. Yes, we do have limits on how much Rai can terrorize the cats (both for their safety and his), but they also needed to learn how to adjust with him here. Now, everyone is adjusted and we're all one big happy family. Rai has even learned to pet nicely when he's not too hyper.
So without further ado, here are the updated pictures since Mother's Day: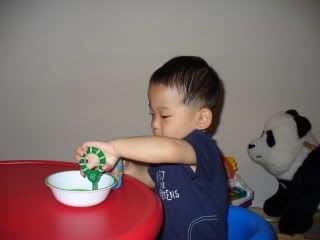 Practicing imaginary play with a spoon and bowl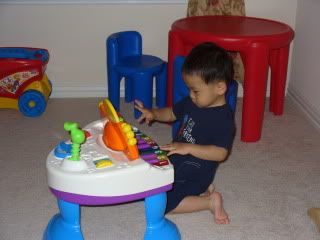 Learning some piano (the guitar is on reserve for longer car rides)
And don't forget dance time!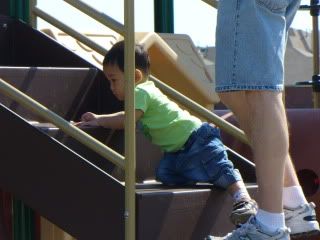 Slowly learning some self-confidence as he climbs the stairs by himself. (He would rather reach for us, so that he can be carried.)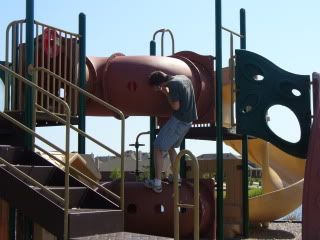 Big smiles!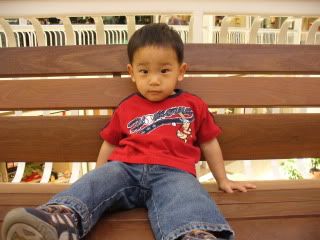 Resting after a morning of running around the mall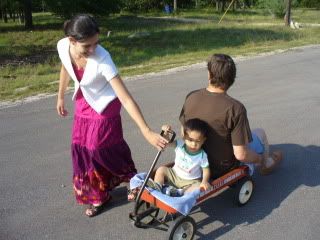 Wagon time at Grammalyn's and Papa's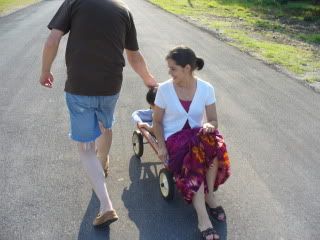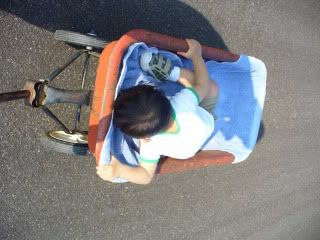 This was either a mini-nap or a new experience feeling the vibrations of the wagon on his head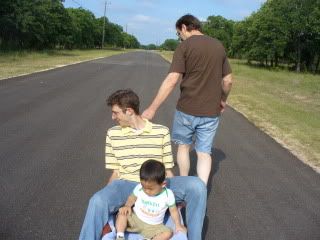 Three generations of boys...
Smile!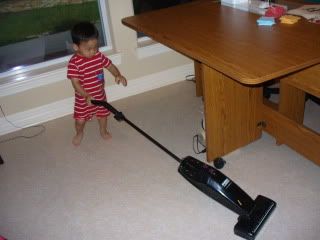 Helping Grammalyn vacuum!
Playing computer games with Papa (You would think that between the two of them, they could beat Aaron in this game...)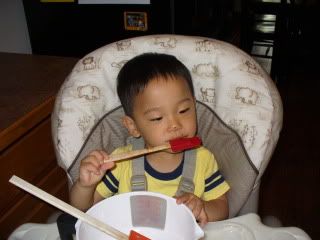 Making brownies with Mommy back home...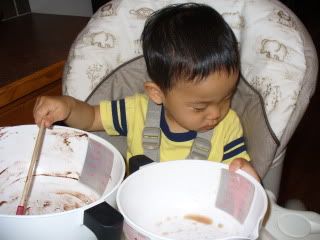 Double the bowls, double the fun!