Gift from Omma and Appa!
We received a card in the mail from the post office on Thursday that there was a package waiting for us from Rai's Omma and Appa (foster mother and foster father). Friday, we picked up the package on our way out of town, and Rai could hardly wait to get it open. In fact, I let him open it in the card in the post office parking lot. Here are a few pictures: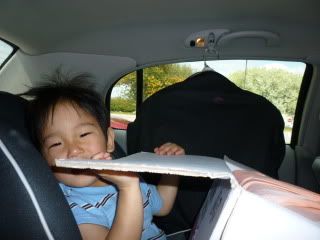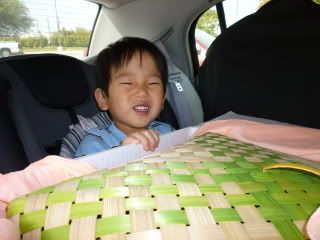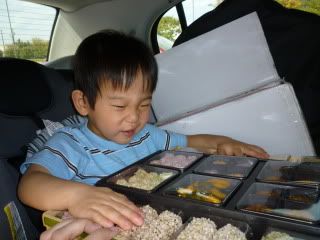 Cookies! We buy something similar at H-Mart (Korean market), but these cookies are MUCH better!
Clothes! Despite the near 70-degree weather, Rai wanted to wear the jacket for the rest of the afternoon. :-)
And we also received pictures. I have to admit that my eyes watered at the sight of the pictures. We had taken a picture of Omma, Rai, myself, and Aaron at a flower park on the morning we received Rai. Unfortunately, my eyes were closed on the picture taken with my camera, but we have posted it everywhere regardless. Omma's pictures included not only a picture with everyone smiling and eyes open but she also included several pictures with Rai's entire foster family (including a foster brother and foster sister). We also received a beautiful letter. Thank you Omma and Appa!
Not-so-great haircut
For nearly 6 months after Rai came home, we tried to cut his hair ourselves. Both of us tried not to make any drastic mistakes, but Rai moved a lot during the process. The result: mini-haircuts in stages. Finally, I talked Aaron into letting Rai get a haircut at Great Clips after one of Aaron's haircuts. Rai did great and the hair cut was MUCH better than we could have done! I really should have written down the name of the stylist (or hair-cutter) because we went back to the same Great Clips last Friday and Rai's haircut wasn't so great. It's shorter though, so I can't complain. Here are a few before and after pictures:
Before: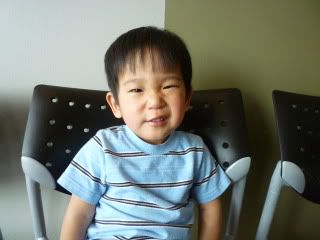 This is certainly Rai's favorite part of the haircut, the candy they give you afterwards. :-) His response? I LIKE candy! I LIKE it!
Speaking of sweets, a trick on Mommy...
Rai is generally a great eater. He isn't too picky, and he'll generally clear his plate. In fact, he LOVES green beans, especially with a little butter. Tonight, he cleared his plate (chicken, risotto, and green beans) and asked for four helpings of green beans. I finally just dumped all the leftover green beans on his plate (about two helpings), and he finished every last bit. What happened next? Well, here is a snapshot of the dialogue:
Mommy & Daddy: Rai, you ate like a big boy!
Rai: Ice Cream!
Mommy: Ice Cream?
Rai: Yeah! Ooo-kay! [nodding]
I was tricked. :-)
Snow in Texas (again)
In the over twenty years I have lived in Texas, I can count the number of times I have seen snow on one hand (maybe two at the most). So you can imagine our surprise when we saw snow this Christmas, then the week after, then a crazy 13 inches in February, and once again today! We were in Austin, Texas this weekend and only saw the temperature change from 70-degrees to a chilly 40-degrees in just one day. Today, we arrived home to see this: