No More High Chairs for This Big Boy!
Before we decided to apply for our second adoption, we decided that several "baby" items were no longer necessary in our house and could be put away. One such item was the high chair. Rai had used a booster seat on several occasions, so we didn't see the need to have the big, bulky highchair out any longer. Of course, it is still sitting, folded up in the study, but at least we have a bit more room in the dining room now.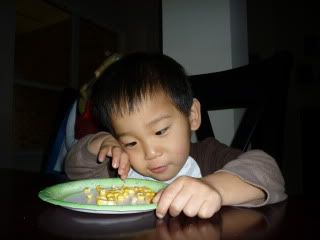 Snow!
It rarely snows in Texas, so you can imagine our surprise when we got 13 inches of snow a few weeks ago. This was the third time Rai has seen snow this winter (twice at Patty's and once here). I just hope he doesn't come to expect this every year.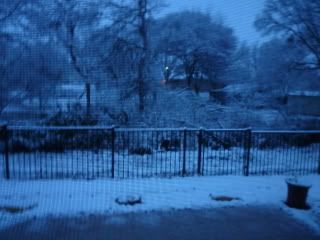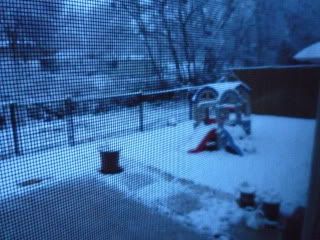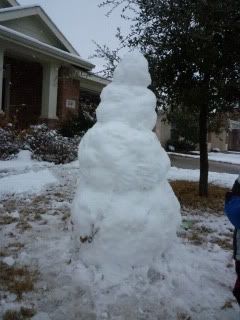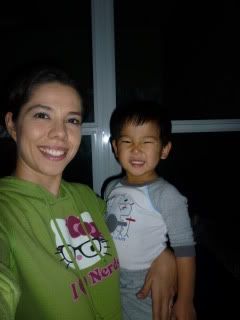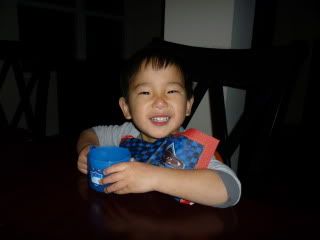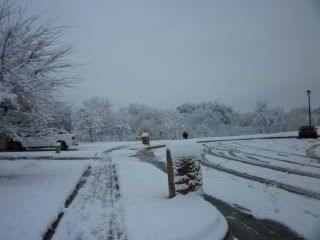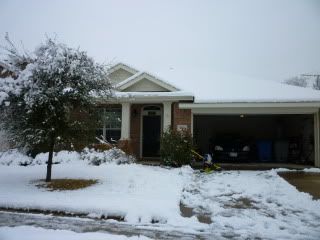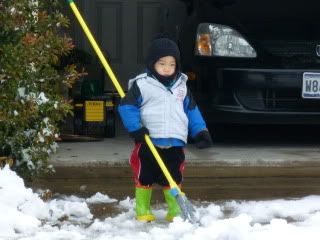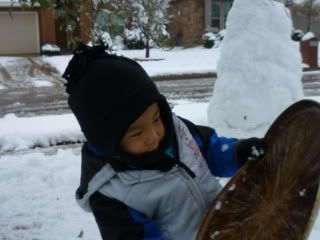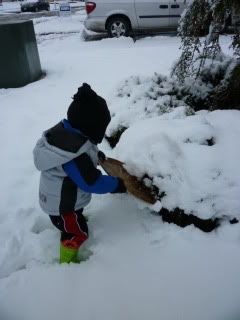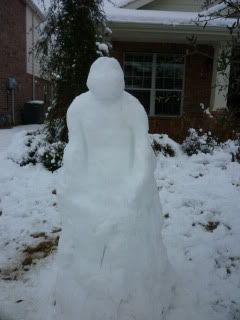 First Valentine's Day Together
Rai is a big fan of food, especially cake! In fact, one of our first bonding moments together involved baking a cake for a friend's new baby. It was a red velvet cake, in fact, and Rai chooses Red Velvet cake mix over any other mix to this day. (No, I'm not the kind of mom who bakes from scratch very often.) So I thought it would be fun to make little red velvet heart cakes for Valentine's Day as one of our projects. Rai is certainly helpful! He pulls up a chair to the counter and mixes a small amount of cake mix with water in a small bowl that looks just like my larger bowl and insists that he wear our matching aprons when we bake.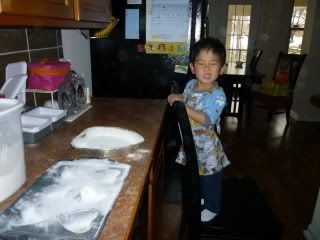 We also made Valentine's Day cards using construction paper, scissors (yes, Rai had help and plenty of supervision), stickers, and markers. We made cards for several family members, including Omma/Appa and Birth Mommy. We were a bit mailing everything out though, but our Korean family (Omma, Appa, and Birth Mommy) should receive cards soon!
The boys had a small project of their own, too, involving playdough.
On the day before Valentine's Day, Aaron and I had a date afternoon watching Avatar in 3D (my new favorite movie) while Rai played with Auntie Amy. After our movie, we picked up Auntie Amy and Rai went to dinner at a nice restaurant. You could tell that the hostess was a bit concerned about bringing a toddler into such a nice restaurant the day before Valentine's Day, but just as I expected, Rai was wonderful. (He was also very tired after an afternoon of play and a late dinner time.) He ate half of my three-course meal and did well drinking from a glass. (No plastic cups at nice restaurants) A few people commented on how well-behaved Rai was, including a woman at the table next to us who said Rai "was the best behaved boy [she] had ever seen."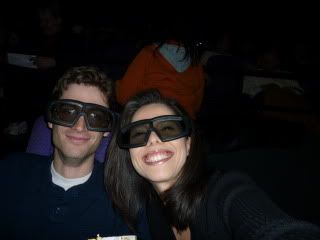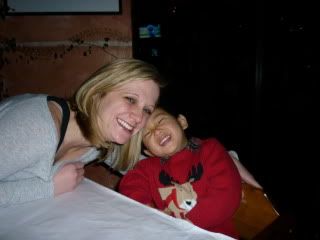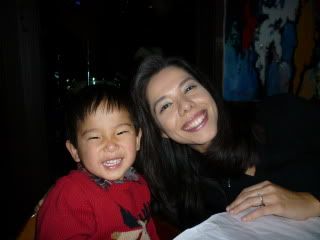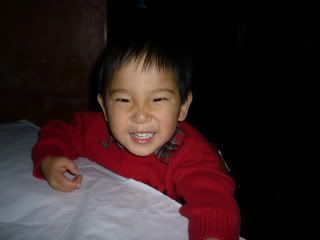 On the day of Valentine's Day, my parents took us out for sushi at a great sushi bar we found recently. Rai is certainly a fan of sushi and near everything else on the table! By the time dessert came around, I ordered Rai is own bowl of ice cream assuming one scoop wasn't enough to share with this eating machine. I hadn't realized though that one order of ice cream is 3 scoops. Yes, THREE scoops. I took out one of Rai's scoops before he noticed, but he managed to eat all 2 scoops of ice cream and remained wired with energy for another hour.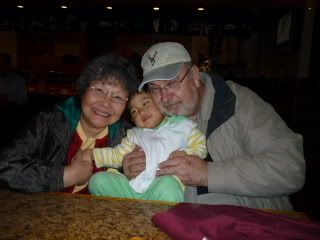 National Geographic for Preschoolers - Science Experiment #1 - Dancing Raisins!
Patty (Aaron's grandmother) gave Rai a subscription to National Geographic for Preschoolders for Valentine's Day. I can't say enough great things about this magazine! There are animal cards in every issue with great little facts, fun stories that will come in handy when Rai has a slightly longer attention span, and best of all, science experiments! Yes, I realize I can find this information online, but it's nice to have experiments using items you can find around the house. We tried the Dancing Raisin experiment (involving water, vinegar, baking soda, and raisins) and watched as the carbon dioxide bubbles surrounded each raisin, lifting them to the surface, and then popping to make the raisin fall back down. The experiment certainly had Rai's attention, but I couldn't figure out if he was having fun until I made one sound effect which got him giggling. We've repeated the experiment at least five times now, and he laughs every time. Thank you, Patty!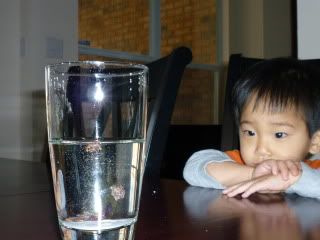 New Teeth!
Rai has been very excited about his new teeth, the bottom molars. Aaron pointed them out during a bedtime toothbrushing, and he has been curious about them since. I think he's finally associating the pain in his mouth with an exciting stage toward becoming "a big boy." That being said, he did have a hard time with these new teeth and wasn't feeling well on Monday. Since we had a doctor's appointment for our adoption paperwork and I had one thing to complete at work, I brought several of Rai's toys, blankets, pillows, etc. to my office and let him rest while I got a few things done. He loves coming to work with me and had fun coloring, reading the one book I have (out of 4 bookshelves) with pictures, and visiting professors in nearby offices (with me, of course). After a slightly challenging lunch, Rai crawled into his stroller with his blanket and pillow and immediately fell asleep. I was so shocked that I paused from my grading to get it on camera.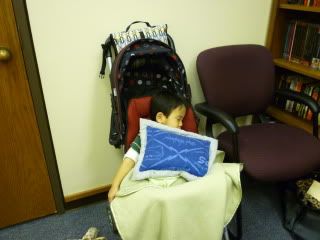 "Keeeeean!"
It's that time of year for American Idol, and Rai is joining us in the household watching party. We actually missed most of the season due to technical difficulties, but we watched most of this week's episodes. On Wednesday night, Rai and I watched the top 12 guys sing, and I noted that one contestant, John Park, is Korean. Rai just replied "Keeean" but didn't seem to understand what it meant. He did smile when I added "just like you!" and watched John Park intently throughout his performance. After the song, Rai clapped and yelled "Yay!" for the first time all night. Unfortunately, John Park weren't as enthusiastic, and I explained to Rai that "They didn't like him." Rai just looked at me and said "I like him!" Too cute. Needless to say, we voted for John Park and are glad to see him stick around for at least another week.
"I LOVE pizzas!"
A close friend of mine is getting married this summer, and I'm so glad that it is one of the few weekends we can go! Rai is excited about the trip and has helped me look at airfare, hotels, car rentals, and even places to eat. After I read him a list of options, including pizza, within a few miles of our hotel room, Rai immediately responded "I LOVE pizzas!" This is the second time he has responded with a phrase we've never directly taught him rather than imitated, and it was just too funny. Needless to say, we'll try to order pizza while we're there!
Lime Face
When Rai was younger, he seemed to like lemons. If you gave him one to bite, he would bite it, make a face, and try it again. He did this so often, we had a few videos posted. Well, Rai gave up lemons for a while but moved on to limes. :-)