My attempts to update everyone more often failed (partially because my last entry magically vanished from blogspot's saved drafts), but here is the first of two updated posts:
Omma!
We were fortunate to get additional pictures of our night with Omma and Rai from our friend, Kim (http://seonmikyung.blogspot.com/), who traveled at the same time as us and was wonderful enough to take so many of the pictures of us on our camera and her camera, too. To make things even more special, Rai started saying "Omma!" again when he saw the pictures. I couldn't help but take a video. Omma, if you're reading this, Rai loves you and Appa very much. We can't wait to come back and visit!
Clean Little Guy
Rai mirrored Aaron washing the windows and mirrors in the house by dragging around his "blue water" (a fun activity involving water, blue food coloring, and oil) and a rag. Days later and he was still washing everything in sight!
Hello Kitty!
Rai has recently taken notice of the various Hello Kitty things in the house (i.e. my Hello Kitty sweatshirts or one Hello Kitty plate/bowl/spoon set) and started requesting things "Kee" (Kitty). I thought it was cute, but I couldn't believe it when Rai begged for pink Hello Kitty Christmas socks at Target. I didn't think Aaron would be too thrilled, so I told Rai "no." Then, he found BLUE Hello Kitty socks, and I just couldn't refuse. They just might be his favorite pair of socks now! (I've taken this as a sign to pull out anything blue with Hello Kitty from my collection. Now Rai has a blue Hello Kitty cup in the bathroom, a blue Hello Kitty toothbrush, and a Hello Kitty doll dressed in a panda suit.)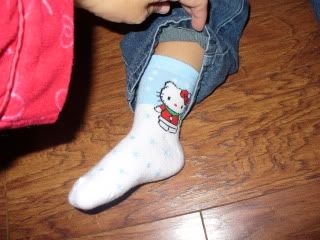 Enjoying a Few Day of Fall
It's rare to see fall weather in Texas. We normally go from 100 degree summers to snow days (meaning 30 degrees with sleet and ice on the roads). So I thought it was too much fun to pass up a trip to the park when the weather was nice and cool. I think Rai might actually like playing in the leaves now...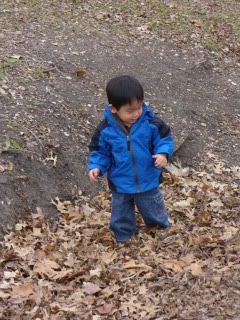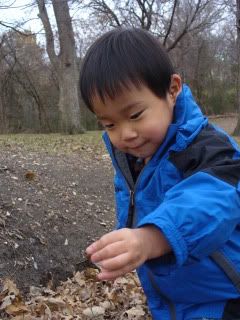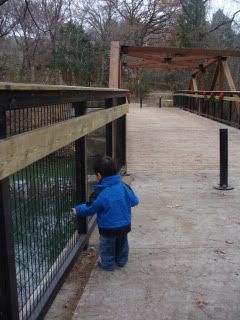 All Decked Out
We recently learned that my great uncle Duane, my grandfather's brother, was admitted into the hospital in the local area for an extended stay. I hadn't seen my great uncle since the days when I went deer hunting with him, my grandfather, and my dad, and I certainly didn't want to miss an opportunity to see him while he was in town. I thought it would lift my great uncle's spirits to bring Rai with me and maybe get a laugh or two if I dressed him up in deer hunting camo. So I got Rai dressed in his camo overalls, sweatshirt, jacket, and cap and headed for the hospital. (We got a few interesting looks on the DART Rail, by the way.) After a short reminder of who I was and an introduction of the little guy with me, my uncle Duane immediately smiled and said "You dad got to him, didn't he?" It was a priceless reaction.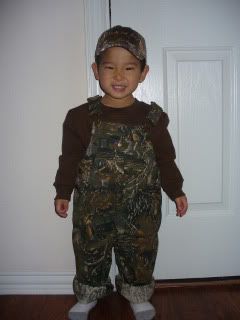 Christmases Galore!
Although the extent of our traveling is rough this time of year, it is priceless to have so many holiday celebrations. The first this year was with my old roomates from college. Katie was in town from California, and Rai threw his arms up to her like she had been here all along.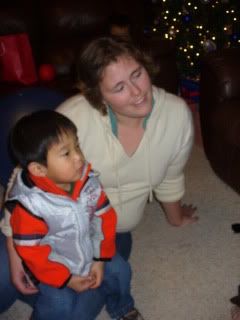 And we finally got a picture of Rai with Kimsan: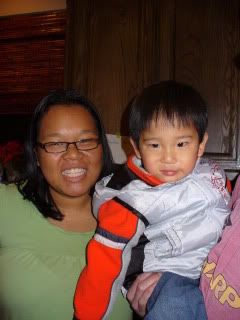 The next day, we went down to Austin (more specifically, Jarrell) to visit Aaron's parents and sister, Auntie Amy, for their Christmas celebration. Rai had a blast from the moment he woke up on the car ride down to the moment we left. He particularly loved the home-made kitchen Aaron's dad made for Amy when she was little.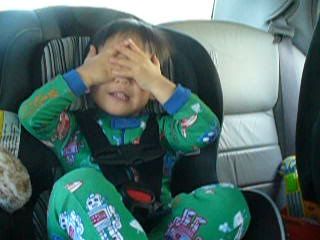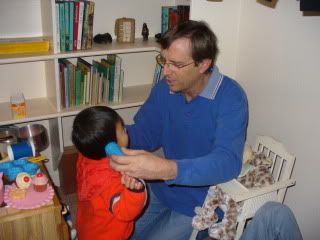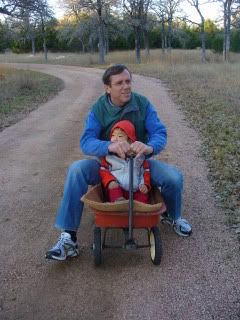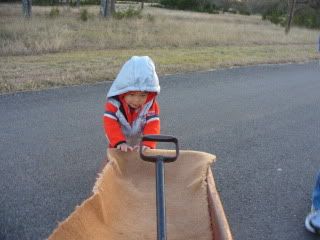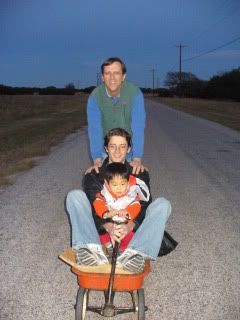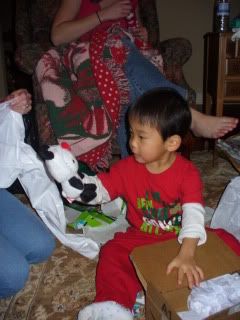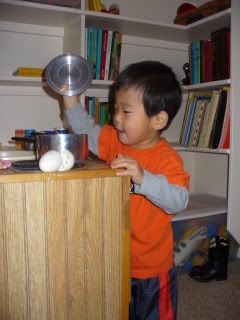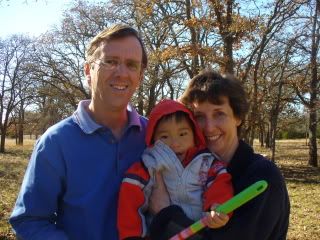 Before we left Austin, we had lunch with Mili and Chris and had a great time catching up. Rai especially loved the lake view at the restaurant.